Midwest residents are designed to stand up to harsh winters, so their siding should be too. Fiber cement siding is specifically engineered to last in the most extreme conditions, including the freezing atmosphere found in the Midwest. Choosing which type of siding to put on your home or business is a big decision. Consider making the choice that will look great and last long. Make your next siding replacement your last.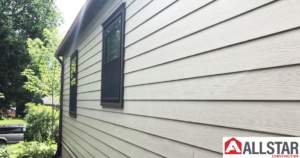 Durability
Over time, after repeated exposure to harsh climates, wood siding has a tendency to crack and expand. James Hardie ™ fiber cement siding has been designed to resist the elements so that you can breathe easy knowing your siding is maintenance-free. There's also a good chance that you've driven by homes with vinyl siding after one of our occasional hailstorms. The holes in the siding speak for themselves. Hail is no match for the durability of fiber cement siding.
Performance
Hardie siding is built to last in situations you may not even think about day to day. For one, it's moisture and rot resistant, meaning you won't have to worry about high cost repairs in the future. Additionally, pesky birds and insects don't like fiber cement, so they'll leave your home alone. Finally, James Hardie siding is fire resistant. "Hardie siding will not ignite when exposed to a direct flame, nor will it contribute fuel to a fire," so if your worst nightmare strikes, your siding will be ready.
Aesthetics
Give your home or business a classic aesthetic with James Hardie's wood look and feel. Fiber cement won't crack or peel from the elements, so your wood look will be maintained much longer. Their ColorPlus® Technology resists fading over time and gives you a wide range of beautiful colors. This coupled with the fact that Hardie siding, "is over five times thicker than vinyl," means your siding will look how you want it to long into the future.
To receive more information and get a free estimate to replace your siding, soffits, and fascia, contact the experienced professionals here at Allstar Construction by filling out our contact form or calling us at 701.478.7663.