Update the Look of Your Home With New Siding
Are you tired of scraping and repainting your home every few years? Are your exteriors looking drab and outdated? Ready for a color change with a solution that will last for decades to come? You need new siding! And what better professional to install it for you than Allstar Construction of Fargo? Our company brings 45+ years of experience to the table when it comes to siding installation and replacement.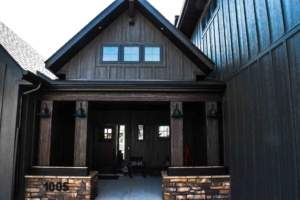 Your siding is a vital component of your home, providing protection from the elements, keeping you comfortable and lowering your energy bills. Did you know your siding helps to block unconditioned air, which reduces the likelihood of drafts? When installed properly by highly trained contractors who use the highest quality materials, your siding is one of the biggest investments you can make in your home.
Over the years, siding can become brittle and crack, and paint can peel or chip. Small holes and cracks can welcome pests into your home, not to mention drafts and the elements. New siding can do wonders for your curb appeal while increasing your property value at the same time. And with better insulation for your exteriors, you may even experience lower energy bills!
Allstar Construction of Fargo offers the following siding options:
Engineered wood
Vinyl
Cedar
Aluminum
Seamless Steel
Fiber Cement
LP SmartSide: A Beautiful Siding Solution
We are proud to install LP SmartSide trim and siding — an upgrade from vinyl siding and a durable alternative to fiber cement. The ideal accent to brick, stone or stucco homes, LP SmartSide products come in a variety of profiles, available in either cedar wood grain or smooth textures. Embrace your home's style and achieve the same warm, natural look of real cedar without the upkeep.
Your Source for New Siding in Fargo
Allstar Construction has been in business since 1979. In that time, we've worked hard to build – and maintain – our strong reputation. With more than four decades' worth of experience, you know you're hiring a company that has what it takes to ensure that your siding is installed correctly and that it's backed by leading warranties.
Allstar's siding contractors will work within your budget to ensure a solution that will withstand the test of time.
Get Your Free Siding Estimate from Allstar Construction of Fargo Today!
Need siding installation? Get your FREE estimate right now when you call Allstar Construction of Fargo at (701) 315-8150. Or, if you prefer, you can fill out our online form. Don't wait another season to get new siding. Start enjoying increased comfort, curb appeal and property value today.