Restore Your Property to Its Original Condition
Storms are inevitable, but they don't have to be life-shattering. Allstar Construction of Fargo specializes in assisting homeowners and business owners with storm restoration and repairs.
When storm damage occurs, it's not always noticeable. In fact, it can take a year or two before leaks resulting from a windstorm or hailstorm appear, resulting in damage to your home's interior.
At Allstar Construction of Fargo, we know the importance of getting the damage assessed and repaired, and we're here to help you through the process. Our team of storm restoration experts will inspect the situation and assist with all roof repairs and replacements.
We Make the Process Easy!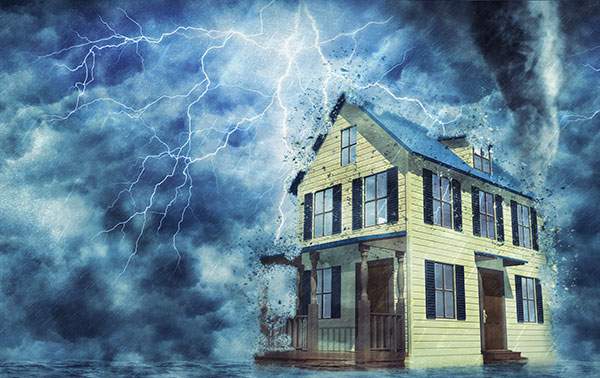 If you've never filed an insurance claim, it can be confusing. That's why we will provide an assessment of the condition of your roof, gutters, windows, doors, siding and any collateral damage – in terms you can understand. We are willing meet with you and your insurance adjuster, providing an expert opinion on the extent of the damage. Our expertise comes from 40 years in exterior construction and restoration, enabling a broad understanding of certifiable damage and coverage parameters.
When working with the Allstar Construction of Fargo team, you will enjoy peace of mind knowing these facts:
We have tens of thousands of satisfied customers.
We are fully licensed and insured.
We will never ask you to pay in full for any repairs or replacements until the work is completed.
What If Your Roof Isn't Leaking?
While the repair or replacement may not be an immediate emergency, it can become one very quickly. Some of the most important things to understand about hail damage and the claims process are:
Hail damage may not be visible from the ground (unless you live in a neighborhood where the hail broke through the plywood decking or broke out skylights). You'll need a professional inspection to find out if your home is damaged.
There is a time limit to notify your insurance company after a storm. If you miss the deadline, you're stuck with a damaged roof.
Most homes can be re-roofed in one to two days.
Make sure you understand how you will pay your deductible before you sign with anyone. There are a few things you should know about insurance fraud. Most importantly is that it is illegal for a roofing company to cover your deductible.
The paperwork you receive from your insurance company includes an estimate for roof repairs. If the preliminary estimate isn't big enough to get your roof replaced, don't worry because it is only an estimate – not a final insurance settlement.

This picture shows an indicator of hail damage on a slate roof. Damage such as this is often not visible from the ground.
A word of caution: if you hire a roofing company that charges less than the estimate from your insurance company, you run the risk of getting stuck with cheap materials, no warranty, an inexperienced roofing crew and a lack of service after the sale; all of which can cause nightmares getting work done.
And remember … the difference between your insurance company's estimate and the cheapest bid can't be used to help pay your deductible. Your insurance company keeps all of the savings when you go with a bid lower than their estimate.
You pay a premium every year for your insurance, and you agreed to a deductible. By law, it is your responsibility to pay that deductible.
The Insurance Claim Check(s) Process
The first check from your insurance company is the actual cash value check or ACV check. It may be co-endorsed to your mortgage company.
The second check from your insurance company is your depreciation. The depreciation is simply the difference between the ACV and the replacement cost for your roof. This check will vary in size or percentage of your claim based on the age and/or condition of your roof.
On most insurance policies (called Replacement Cost Value Policies), your insurance company will likely hold back the amount of your settlement that is not paid unless, and/or until, you need it to finish fixing your home. The depreciation check is not sent to you until after you submit your roofing contractor's final invoice to your insurance company…and the depreciation is not paid unless, and/or until, you need it to finish fixing your home. You do not get to keep the difference from what your contractor charges you and the amount of the depreciation check. That's why it doesn't pay to go with the cheapest contractor… you don't get to keep or use the difference.
Allstar Construction of Fargo has years of storm restoration experience, meaning that we use the same software that many insurance providers use to cost out their claims. Most of the time we can do the work for the insurance proceeds. Sometimes, however, to do this we will meet with you and your insurance adjuster to make sure that you get paid all of the insurance proceeds that you are due, so we can install a full protective roofing system: a system that you deserve from your coverage!
Beware: other contractors may work 100% from your insurance paperwork without even going up on the roof. These people call themselves insurance specialists!?! A quality contractor would never do this. Your roof must be fully evaluated, inside and out. Oftentimes, the insurance adjusters "scope" of work is off by a few squares (or units of roofing 1 square = 100 square feet) or may be missing some key components. We aren't adjusters, but we have the experience to work with you and your adjuster to make sure your repairs go smoothly!!!
Over the past few years, many insurance companies have been writing what is called an ACV policy. What's worse, sometimes the insurance agent is not explaining how an ACV policy works or even telling policyholders that their policy has changed.
With replacement cash value policies, the first check normally has your deductible and any applicable depreciation already deducted. Your depreciation is non-recoverable. That means that once you get paid the first check, there won't be any more money available to make the repairs. That means that to replace your roof, you will have to pay for the remainder of the cost yourself.
Beware, this is another place where you might get caught dealing with lower quality contractors, materials and workmanship. In roofing, just like in all areas of life, you get what you pay for. Quality workmanship, materials, system components and warranties ALWAYS cost more that the cheap stuff.
It is important to know what type of policy you have. It will really determine the re-roof/repair process. If you are not sure which type of policy you have, contact your insurance agent.
In a storm environment, with rising material and labor costs, it may also be necessary to request a supplemental claim in order to cover these increases in price. When a supplemental claim is paid, your insurance company will agree to issue a third check beyond the original claim to help your contractor cover the increased cost of the job. This check will be made out to the homeowner, but, sometimes, it will require the signature of your mortgage company, too.
A few final thoughts on your insurance claim paperwork and your deductible:
There are two primary types of policies: REPLACEMENT COST VALUE and ACTUAL COST VALUE. Every policy has a deductible.
The deductible is the portion of your claim that is not covered by your insurance company.
You are responsible for your deductible, which will be a specific amount ($500, $1,000, $2,000, etc.), or a percentage of your home value (usually 1% or 2%).
After the adjuster has been out to your home, it takes around two weeks to get your first check.
If your estimate for roof replacement is LESS THAN your insurance (first check = actual cost value plus second check = depreciation), you cannot keep the money.
With most policies, there are four key terms you'll need to learn
Actual Cash Value: The amount of your first check from your carrier
Depreciation: The amount of your second check from your insurance carrier
Replacement Cash Value: Your ACV Plus Depreciation
Deductible: The amount of your claim that you are responsible to pay.
Supplement Process
There are over 30 steps in the re-roofing process and many more to determine siding, window and gutter damages. Failure to cover one of these steps results in an inferior roofing/siding system. Most items missed by the insurance carrier are simple oversights. We provide them with pictures, diagrams and estimates so the claim process continues without interruption.
Hail
The impact of hail can loosen, fracture or remove granules from your asphalt shingles. The granules protect the asphalt matting of your shingles from sunlight and ultra violet light (UV). The asphalt will deteriorate very quickly once exposed to the sun. This is the reason a hail-damaged roof will prematurely fail. Hail-damaged roofs may or may not be detected by the inexperienced observer. The results of a hailstorm will void the shingles manufacturer's warranty as they cannot warranty against "Acts of God", such as hailstorms.
Damage Inspection Report
Allstar Roof Damage Inspection Report documents the results of our inspection of the property by location, elevation, slopes and more. We conduct an overview of the property, and then we work our way counterclockwise, starting at the front left-hand side. This report outlines all wind and hail damage on the property, identifying the types and conditions of materials which were found to be damaged and not damaged by the recent storm activity. We use this checklist for each component of the property to ensure a complete exterior inspection. Any special concerns are noted on the report. We also gather other important information about the property, including property built date, age of exterior building components, weather condition on the day of the inspection and more.