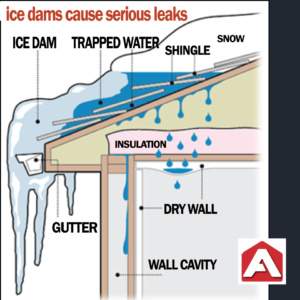 Homeowners and business owners in North Dakota and Minnesota are no strangers to cold, icy and snowy weather. You know the inconvenience all that snow and ice can cause to your property, from shoveling and snow blowing to ice melt and salt. As a business owner, you need to ensure that your property is clear after a storm, but you can't handle all that by yourself. And as a home owner, you may not have the equipment or the time to clear your driveways and walkways so you can go off to work.
Why not let us handle it here at Allstar Construction of Fargo? We have all the equipment, tools and expertise to prevent and remove ice dams as well as provide full snow removal from any property type.
To get a free quote on ice dam and snow removal, call us at (701) 315-8150 or complete our online form.
Ice Dams: How We Help Protect Your Home
Ice dams are ridges of ice that form at the edge of your roof while preventing melting snow from draining off. The water behind the ice dam builds up and then leaks into the home, damaging insulation, walls and ceilings. When left to build up, this can lead to expensive repairs, not to mention safety issues.
We come equipped with the right tools such as roof rakes and more to remove dangerous ice dams from your property, while giving you advice and guidance on how to prevent them the next time. In general, you can prevent ice dams from forming on your Fargo home by:
Creating attic bypasses to block heat loss.
Ensuring sufficient Insulation of between 12 and 14 inches of fiberglass or cellulose.
Adding vents in your attic to encourage the free flow of air.
Snow Removal: How We Reduce the Load on Your Building
Whether the area has experienced a light coating of snow and ice or a full-on blizzard, you can rely on us to remove the snow and clear up your property. Leaving snow and ice to accumulate can result in slips and falls, not to mention inconvenience for navigating and parking cars. We can remove and clear the snow in the most efficient manner so your driveways, walkways, patios and pathways remain clear for family members, customers and employees.
Get Your Free Estimate on Snow Removal Today
Get started with a free, no-obligation quote on ice dam and snow removal when you call us at (701) 315-8150 or complete our online form.